CDT for the Problems of Life
CDT (Counseling Discipleship Training) for the Problems of Life
---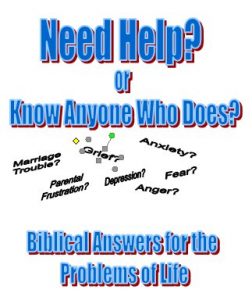 TWO OPTIONS……
Option #1: Counseling and Discipleship Training (CDT) here at WBC
12 Monday evening classes  January 2019 – March  2019
or
Option #2: 3 Weekend Classes in Charleston, WV on
March  , April  & May
Register below.
---
COURSE SCHEDULE
Training begins Monday, January , 2019 through March  , 2019 (12 consecutive Mondays).
Lectures begin promptly at 6:00 p.m.
Snacks provided during breaks.
Track Two
6:00 – Counseling Topic Lecture
7:00 – Counseling Topic Lecture
8:00 – Case Studies & DVD Observation
Track Three
6:00 – Counseling Topic Lecture
7:00 – Discussion of Elements, ACBC Exam Preparation
8:00 – DVD Counseling Observation
---
What is Biblical Counseling?
This training is intensive discipleship. It is learning to minister the Word of God to people where they need it the most right now. Everyone is a counselor to someone. Spouses, parents, teachers, pastors, youth workers, church leaders, and health care professionals are regularly giving advice about a variety of subjects.
The counseling ministry of Wheelersburg Baptist Church is committed to the absolute sufficiency of the Word of God. We believe that in the Bible God has provided us with real answers for the real problems people encounter in life.
Should I take this course?
If a person came to you depressed, heavy with guilt, near a "breakdown," anxious, fearful, full of bitterness, with marital problems, or overwhelmed with grief, would you know what to do according to God's Word? The goal of this training is to equip God's people to be able to minister God's Word to those in need. If you want your counsel to be more biblical, insightful, and helpful to the people you care about, consider participating in this course.
Primary Instructors
Pastor Brad Brandt: Certified counselor and fellow with the ACBC (Association of Certified Biblical Counselors) (formerly known as NANC). Pastor-Teacher at Wheelersburg Baptist Church since 1987.
Barbara Miller: ACBC certified. Member and counselor at Wheelersburg Baptist Church. Nurse practitioner at a local OB/GYN office.
David Beam: ACBC certified. Member, counselor and teacher at Wheelersburg Baptist Church.
Dr. Charles Hodges, M.D.: ACBC certified. Addressing Medical Issues in Counseling during Medical Issues Night on March ___.
---
COURSE CONTENT
Track Two
(Track Two complements materials presented in Track One, but addresses different topics and stands alone.  So Track One is not required before taking Track Two and vice versa)
Why Counsel? Biblical Counseling in the Church
Qualifications of a Biblical Counselor
Role of the Holy Spirit
Recapturing a Forfeited Ministry
Essential Elements of Counseling
Helping Counselees Understand How to Change
A Model for Decision Making
Biblical Principles of Sex
Dealing with Addictions
Women Counseling Women
Counseling and Evangelism
Dealing With Medical Issues in Counseling

Eating Disorders
Roles in Marriage
Conflict Resolution
Depression
Forgiveness
Trusting God in Adversity
Spouse Abuse
A Biblical View of Grief
Communication
Track Three
(Open to all who have completed Tracks One & Two)
Track Three is intended to equip more fully the person who is serious about pursuing certification with ACBC. Each week will include: teaching on counseling issues that builds upon material from Tracks One and Two, discussion of practical elements in counseling, and observation of actual counseling. A key objective of the course is to encourage and enable participants to achieve ACBC certification.
How do People Change? A Biblical Model
The Importance of Prayer in Counseling
Medical Issues in Counseling
Liberating the Alcoholic
Utilizing the Resources of the Church
When the Counseling Process Gets Stuck

How Not to Counsel: Job's Friends
Working with Blended Families
Resources for Financial Problems
Biblical Submission
Homosexuality
---
COSTS AND MATERIALS (new rates/prices to be announced)
The cost involved is for the handbook, supplies, reading materials for each class, and expenses for outside/adjunct instructors. Couples may share their books but will need to purchase their own copies of the training manual. If not all books are needed, you may purchase them individually by adding their cost(s) to your Registration and Manual fees.
Track Two
Individual Registration fee and Manual $__
Individual Fee/Manual/Set of Books $___
Married Couple Registration, Manuals $___
Married Couples Fee/Manual/Books $___
Track Two Books
Competent to Counsel (Jay Adams) $___
Trusting God (Jerry Bridges) $___
Christian Counselors Casebook (Jay Adams) $___
Pamphlets (6) $___
Track Three
Individual Registration fee and Manual $___
Individual Fee/Manual/ Book $___
Married Couple Registration, Manuals $___
Married Couples Fee/Manual/Book $____
Track Three Books
Theology of Biblical Counseling (Heath Lambert) $___
Or……OPTION #2
Three Weekends of CDT at Bible Center Church in Charleston, WV, March  , April  & May
To register, contact Union Mission at (304) 925-0366 or visit wefeedpeople.com
Scholarships may be available if cost prevents participation in the course. Call WBC for details.
---